Don't press any buttons underwater!
By Cari Carothers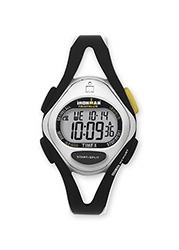 I've been trying to get into shape so I could start doing triathlons -- athletic events composed of swimming, cycling and running. I purchased a nice sport watch, a "Triathlon" model, so I could time myself in the pool and confirm I was counting the laps correctly. After just a few workouts, the watch filled up with water! I took it back and they happily replaced it, saying that I must have accidentally pushed the buttons under water!

The watch was water resistant to 100 m. I looked at the instruction booklet that came with the watch. On the last page of the instructions was printed...

WARNING: TO MAINTAIN WATER-RESISTANCE, DO NOT PRESS ANY BUTTONS UNDER WATER

This limitation seemed ridiculous since using the watch to keep track of laps in the pool would involve pressing buttons on the watch while swimming.
Design Suggestion
The athelete is likely to press the watch buttons underwater because the warning isn't obvious. If a warning sticker was placed on the watch, it would be more obvious.

Of course, a better solution would be to design the watch to allow the buttons to be pressed while swimming, without ruining the watch. Some other brands of watches allow this.

---
Copyright © Michael J. Darnell 1996-2010. All rights reserved.